16 Seater Tempo Traveller
in Jaipur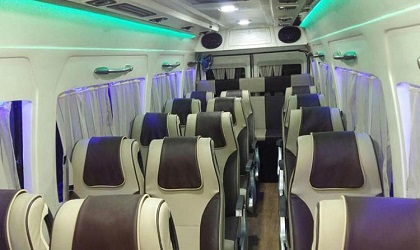 Overview:

Travelling with a big group in Jaipur? We at Pitu Cab offers 16 Seater Tempo Traveller in Jaipur for the people who love to travel with their huge group. It is the best variant when you have large group of people like school, college and family trip. Even with 16 seats you will with get ample of space to carry your luggage and have a comfortable journey and make everlasting memories. Tempo Traveller comes with proper Air conditioner with good Interior for local as well as outstation tours. Experience a hassle-free drive with us at great prices.
What makes a 16 Seater Tempo Traveller an ideal choice?
12 Pushback seats and sofa seat at the end.
Sofa seat is best if traveling with kids.
Spacious and comfortable seats.
Since its foldable, 2 adults can sleep comfortably.
Individual safety belts (depends on the availability).
AC and Non-AC variation accessible.
Stereo System.
Adequate leg space.
Ample space for luggage.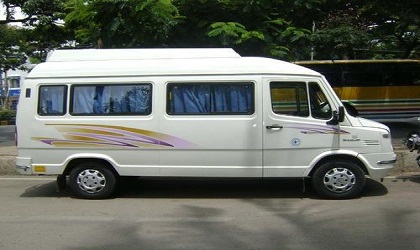 Pitu Cab brings many years of expertise in ensuring that your journey is comfortable, smooth, safe and pleasant .We maneuver all types of tours in Jaipur which linked to travel support. Meanwhile, providing the travel support we also craft the tour and manage the complete itinerary of the customer. We at Pitu Cab makes constant efforts to maintain our Drivers Fit, active and well trained with all the driving skills. Hitherto, if you find any difficulty during the tour or have any trouble on the journey for the journey routes our assistance team will be in touch with the customer to deal with the tour and craft the remaining tour.
Call us at +91 8094 1234 22 to know details regarding fares and availability to hire our tempo travellers for your day trips in Jaipur.