12 Seater Tempo Traveller
in Jaipur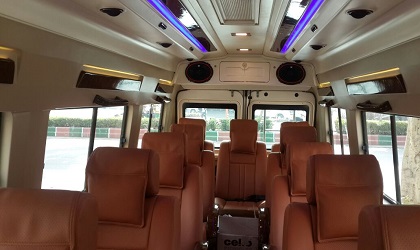 Overview:

If you are planning for some fun and exciting trip with your family, friends or colleagues then you must go with Tempo Travellers. The Tempo Traveller being the most elegant and spacious car coach, not only lets you to travel comfortably but also to keep your baggage more properly. It is considered toughest for its 4 stroke engine and 2399 cc displacement. The Tempo Traveller has 72 Bhp at 4200 rpm the safest car for the family and long tours and vacation. Pitu Cab offers you 12 Seater Tempo Traveller in Jaipur (9 Seats + 3 in Back Sofa) for a group of 12 persons or less who can have a great journey with sufficient space. So book your Tempo Traveller Jaipur with us and experience the pleasure of its spacious interior and Dual A/C in-build in top and bottom area for super cooling that makes your journey even more easy and contented. The cars & coaches we provide are well furnished and equipped with first-aid box, fire extinguisher, sufficient tools & spares etc. to meet your any emergency requirements.
Why Choose 12 Seater Tempo Traveller in Jaipur
Other Informations
Passengers
13 (Including driver)
Luggage
12 Bags
Air Conditioner
Yes
Seat Belts
Yes
Music System
Yes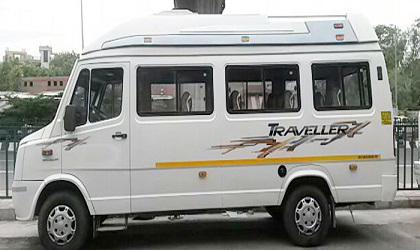 Benefits of Using Pitu Cabs:

Full-time safe and convenient service.
Quick booking with suitable payment methods.
Best quality vehicles with features like cleanliness, safety and comfort.
Credible and agreeable seats.
Experienced and polite driver.
Free drop facility in the city.
We provide the most trustworthy and stress free Tempo Traveller in Jaipur.If you want Tempo Traveller Rental at competitive prices in Jaipur then Pitu Cab would be the right choice for you to do your journey with comfort and luxuries in the best options available in Jaipur. For more details on fare and availability, call us at +91 8094 1234 22!